How to Help Students Organize​
Last week I defined executive function skills and how they might affect students. Now I'd like to share some ways to help. This week, I'll focus on organization, and specifically having everything together for a particular task or when leaving the house to go somewhere. I learned this method from Sarah Ward of Cognitive Connections. She offers workshops for parents and if you have a student with executive function gaps, I'd recommend signing up for one. The idea with this tool is to help students visualize themselves with everything they need. While neurotypical individuals automatically create an image in their mind of what they need, neurodiverse students often do not have this skill. Therefore, creating an actual picture is valuable. Below is an example of an image you could create with your child to help them pull together everything they need to leave the house in the morning. Take a picture of them with the most typical items. A picture of them with their face is far more valuable than an image pulled off the internet. You can add words to it using a free design program like Canva. Put words on it that describe the items. Not too many, but just enough. If there are things in the backpack you can't see, like snacks, pens, pencils, and highlighters, you could put those words underneath the word backpack in a smaller font. The goal is to make it as visual as possible. Then, you can have this posted by the front door, on the fridge, or students can keep it on their phone and check it to make sure they have what they need. There will be times that they need different things. Ask them, "What is the same and what is different about what you need today?" For instance, in winter they'll need a hat and gloves. Don't expect them to be able to do this independently on their own right away. At first, you can be there to check with them that their body matches the picture. Eventually, you can step back. Below is an example of an image you could create of what they need to do their homework. This could be posted in their room or wherever they typically do their homework. I'm happy to help you and my students create these images at the beginning of school and act as an additional check in to help them remember to use them as the year progresses. ​
What is Executive Function?​
Many students with learning differences struggle with executive functioning. But what, exactly, does that mean? Executive functioning involves the following skills: 1. Monitoring oneself2. Being able to start and complete tasks3. Organization of ideas as well as materials and working/living space4. Planning5. Maintaining attention and focus6. Emotional regulation For instance, an older student with solid executive function skills can follow multi-step directions and start and complete tasks independently. But those who struggle with executive function might not be able to follow more than two or three steps at a time, and frequently become distracted with starting or completing tasks. Executive function develops in early childhood and continues to take shape throughout adolescence and into young adulthood. Our executive functioning comes fully online around age 25, though it could take longer for some students. Some students will develop skills faster than others. Although some signs of executive function struggles match up with the list above, such as difficulty with planning or staying focused, there are also other signs that aren't as obvious, including not hearing what another has said, becoming uncomfortable or even panicky with a change in routine, and emotional swings. If you suspect your child has executive function gaps, you can ask your pediatrician or family doctor to do an exam or evaluation. Depending on their findings, they may refer you on to a child psychologist, pediatric neuropsychologist, or learning specialist for a more comprehensive evaluation. From there, you can work with your child's teacher(s), special education department, and tutors and coaches like myself to provide assistance and instruction on how to manage and work with executive function gaps. If you suspect your child has trouble with executive function and you'd like to discuss options for help, please let me know. ​
Anti-Racist Reading Recommendation​
If you are looking for an excellent resource geared toward children that can foster conversations about how to understand racism as well as how to dismantle it in ourselves and our communities and institutions, I highly recommend This Book is Anti-Racist: 20 Lessons on How to Wake Up, Take Action, and Do the Work by Tiffany Jewell. For students younger than 11 or 12, you will want to read it with them to help them understand some of the more complex ideas presented. Students 13 and up can likely read it themselves, but working through it with them will create an excellent opportunity to discuss the ideas presented and do your own critical reflection. One caveat: this book may be challenging for students with dyslexia and other reading difficulties, and it is not yet available on audiobook, so I'd also recommend that parents read the book with those students. Jewell's book is broken down into sections: Understanding and Growing Into My Identities, Making Sense of the World, Taking Action and Responding to Racism, and Working in Solidarity Against Racism. In each section, there is a mixture of history, information, and opportunities for self-reflection. There are multiple journal prompts that create time for students to think about what they read and connect it to their own lives. There is also a robust glossary in the back that defines terms students may be unfamiliar with. The link above will allow you to order it from your favorite local independent book store. Or, use this link to order it from a Black-owned independent book store. ​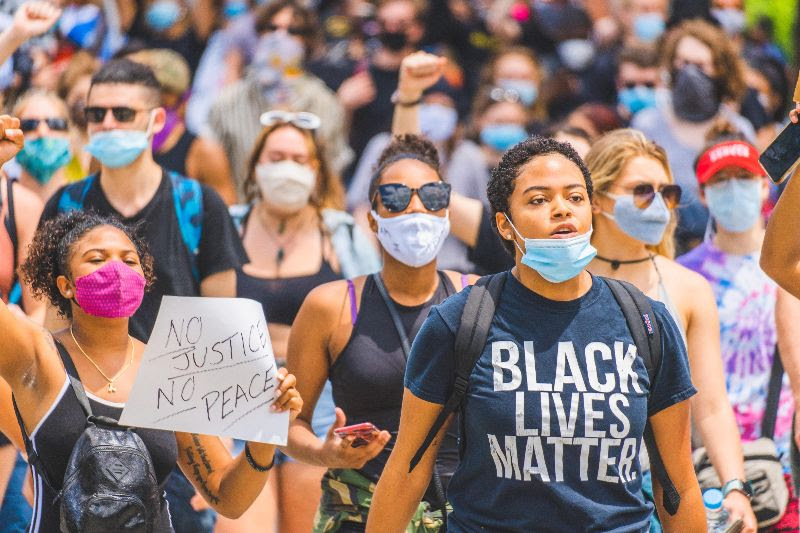 If you're wondering when is the right time to talk to your children about racism, the answer is now. With the current protests happening in many US cities, many children are wondering what is happening and how we got here. Here are some resources to help you have these conversations with your child. To read with kids:From EmbraceRace: Where to Find Diverse Children's Books From TimeOut: Kids Books About Race that Celebrate Diversity and Inclusion From the New York Times: These Books Can Help You Explain Racism and Protest to Your Kids For adults:From Teaching for Change: Teaching Young Children About Race From CNN: How to Talk to Your Children About Protests and Racism From the University of Pennsylvania: Talking to Children After Racial Incidents From the National Association of Independent Schools: What White Children Need to Know About Race From Common Sense Media: How White Parents Can Use Media to Raise Anti-Racist Kids From the Chicago Public Library: Anti-Racist Reading List From Ibram X. Kendi Photo by Julian Wan on Unsplash.​
Dealing with the Stress of the Pandemic​
I've been sheltering in place since March 12. I'm an introvert and enjoy working from home, so at first this seemed like a blessing. But as the months have worn on, I'm showing signs of stress: less patience, quicker to anger, lots of tears at unexpected times, and less energy. And did I mention I have generalized anxiety disorder even when there isn't a global pandemic? I've seen a pattern with my students, too: some are less enthusiastic, others are more distracted, and some actively resist showing up to sessions or doing the work assigned. All of this is normal and to be expected when trying to learn (and live) during a pandemic. We are all dealing with the unknown, and we all react to stress differently. If you have noticed a shift in your child's resilience, work ethic, or general outlook, know that this is not unusual. According to the CDC, stress can manifest in various ways in children: • Excessive crying or irritation in younger children• Returning to behaviors they have outgrown (for example, toileting accidents or bedwetting)• Excessive worry or sadness• Unhealthy eating or sleeping habits• Irritability and "acting out" behaviors in teens• Poor school performance or avoiding school• Difficulty with attention and concentration• Avoidance of activities enjoyed in the past• Unexplained headaches or body pain• Use of alcohol, tobacco, or other drugs I do my best to keep this in mind when working with students and I understand their progress might be slower right now and they may not be at their best during our session. It's okay. We are all doing our best. I have a couple meditations on my website that may be helpful: one for grounding to help students become present, one for releasing negative thoughts/energy, and one for progressive relaxation. They are between 5 and 7 minutes long and are available both on my site or through SoundCloud. Photo by Kylo on Unsplash. ​