Keep Reading Aloud to Your Kids...They Want You To​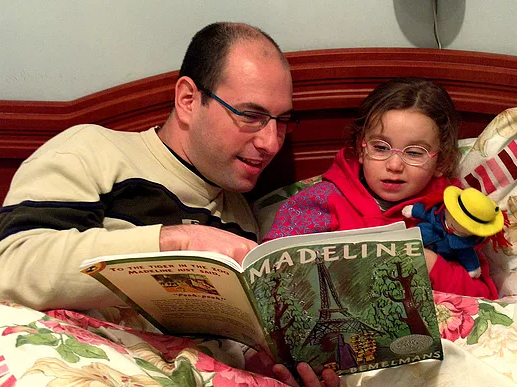 A Scholastic survey last year found that 8 in 10 kids liked or loved being read to, and that same group said that time spent listening to a story read by a parent was a special time. Most of us think about reading to young children. A story or two before bed often becomes part of the bedtime routine. But when children become older and can read independently, parents often stop reading to them. Reading to children is an important part of fostering a love of reading and it also helps build their comprehension and vocabulary skills. If the practice has fallen off in your home (or you never really had that practice) it is never too late to start it up again, or begin for the first time.
Here are some suggestions of books you can read with your child:
K–1: Fredrick by Leo Linni, Are You My Mother? by PD Eastman, the Junie B. Jones series by Barbara Park
2–3: Ivy and Bean by Annie Barrows, Stink and the Incredible Super-Galactic Jawbreaker by Megan McDonald, Owl Moon by Jane Yolen
4–5: Strange Case of Origami Yoda by Tom Angleberger, The Secret Garden by Frances Hodgson Burnett, Drita, My Homegirl by Jenny Lombard
6–8: The Invention of Hugo Cabret by Brian Selznick, The Evolution of Calpernia Tate by Jacqueline Kelly, The Maze of Bones, Rick Riordan
9–12: The Lord of the Rings series by JRR Tolkein, The Fault in Our Stars by John Green, the Divergent series by Veronica Roth
The Harry Potter series is also always on my list of recommended books as well.
And if you need more inspiration, visit your local children's librarian. They are treasure troves of information and can help you find books suited to your child's interests.​